Think Outside
We love the great outdoors. And we love those who love the great outdoors. That's why we've dedicated ourselves to two things. First, to build outdoor gear you can rely on. Second, to price that gear for the real world. You shouldn't need to take out a second mortgage just to keep your drinks cold.
Overbuilt.
Not overpriced.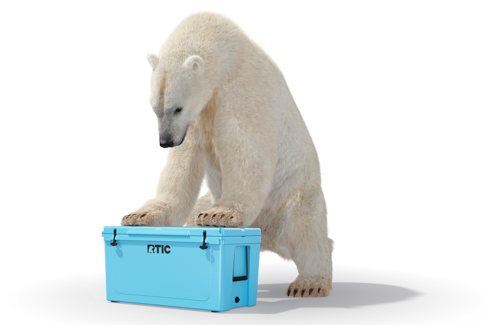 Save your money for your adventure. We'll back you up with products that perform—whether you're icing down six-packs for a tailgate party or fly fishing the Bighorn River.
RTIC Outdoors is lucky to have some of the most loyal customers in the world. And that is something we will never take for granted. So lace up your boots. Pack up your truck. Hook up your boat. Hit the trail. And never look back.
"Top-notch company and top-notch products."
- Steve Whateley, verified purchaser
Let's be direct.
Between you and everything you purchase, there's a distance. Our passion—our specialty—is to shorten that distance. We looked at traditional business models and distribution channels and realized these traditions needed changing in order to bring people and experience together. Some companies, to stay competitive, will compromise on quality in a price-driven race to the bottom. Other companies cling to the status quo, pricing themselves out of the real world, hoping their customers will play along and pay along.

We do neither.

Whether it's an ice cooler or a barbecue grill, we eliminate anything that gets in the way of your experience. You don't need big-box retailers, celebrity endorsements, or complex distribution networks to get the things you want the way you want them at a price you want to pay. Word of mouth, from real people, amplified by social media, speaks to the new truth.
The Direct To Consumer Retailer of Extreme Rotomolded Coolers

We are a direct to consumer retailer. We offer a very compelling value proposition on quality rotomolded coolers. We're the brand, the importer, the shop, and the marketing arm, all in one. We intentionally forgo the traditional cooler distribution channel the other brands are tied to because this outdated distribution channel is expensive. The company is based in Houston Texas and has 5 fulfillment warehouses located in Fresno California, Romeoville Illinois, Houston Texas, Atlanta Georgia & Pittston Pennsylvania.
About The Owners
Entrepreneurial twin brothers, John and Jim Jacobsen, gained success in the cooler industry by selling their high-end products for less. They offer high quality coolers with all of the features customers want - at a fraction of the price you can buy in a retail outlet. How? By cutting out the big box retailers, using word of mouth, & social media to promote their coolers.
In the three years since launching Rtic Coolers—now known as Rtic Outdoors—the duo's ultimate goal remains the same; provide high-quality, affordable products for all. The brothers are ready for the journey ahead!
"It's about the adventure, and how you can take RTIC along—you spend the money on the adventure, not on the gear." - Jim Jacobsen